Maxim Golbraich is the CEO of Global Marketing Solutions, representing Rosso caffe.
Maxim came to us with a vision he had for a crisp immersive video header that would play on their brand new website.
The concept was simple yet effective: the morning coffee.
It's all about that warm and fuzzy feeling you get when you take a sip of Rosso coffee.
Production Breakdown:
b-rolls (tripod/hand held beauty shots) – $500
movement shots (using a slider in this case) – $100–120
lighting – $100

no sound was needed since it's running in the background
actor and location were supplied by the client
Total budget: $700
Storytelling and execution by: Eliya E. and Tom G.
To view the final result visit: https://rossocaffe.co
https://www.youtube.com/watch?v=2SZSbkd-Ihs
Here's an interview with Maxim, by Jeff Askin, Community Manager at Veed.me:
Jeff Askin: Congrats on your new marketing video.
Maxim Golbraich: Thanks! We are really excited about it.
Q: What kind of feedback have you gotten on the Video?
A: People have said it looks amazing and stated it has added an additional dimension to our website. (Laughing) Customers have also said that they hope the coffee tastes as good as the website looks.
Q: What was your experience like with Veed.me?
A: "It was really helpful, we uploaded our ideal project and how much we were willing to spend
and within a few hours we had a couple of pitches to review.
Q: What did you think of the finished product?
A: We were able to get a professional video that helped promote our company without spending a ton of money. The finished product was like a dream come true.
Q: What did you like most about the process?
A: The fact that it was fast and simple to do made the whole experience very enjoyable. The websites interface was easy to navigate and helped save us time and in the end money. We were also able to view the portfolios of our potential producers, which let us get a feel for their individual style and what they could do for us.
Q: Did you explore other options besides Veed.me/Why did you choose us?
A: We shopped around for a photographer at first because we didn't think we would be able to afford a video. Then while on Facebook we learned about Veed.me and decided to give it a shot. In the end it was cheaper for us to make the video and we were happy we did.
Q: How many people have seen the video?
A: Everyone who comes to our site sees the video because it plays in the background. When we first added the video to our site it received 3,000 views in the first ten days.
Q: Do you use analytics to track your website?
A: Yes, we feel that analytics give us excellent data on the traffic coming in and out of our website. Generally customers spend about three minutes and fifty seconds on our site when they first come across it. That time frame is seen as being generally longer for an E-commerce site. Our conversion rate is also higher on desktops than mobile devices. The reason for this is because the desktop version plays automatically while mobile devices require you to watch it separately. Right now our conversion rate is about 8.5%, which is very high because usually sites like ours only see, about 2% to 3%.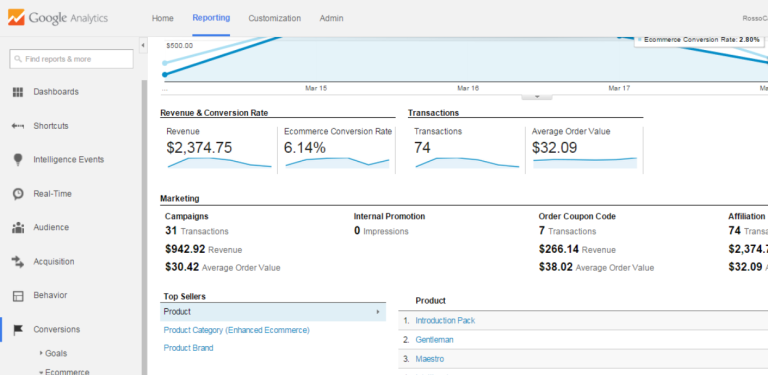 Some final thoughts
On our end it was so much fun working with Maxim and the Rosso team.
The owner of Rosso caffe was also on site during the shoot which was an added bonus and made the video that much more fun.
Here at veed.me we received 3 premium sleeves of Rosso coffee after the shoot and had to try it right away.
Jeff immediately drank most of it and loved its rich flavor and crema.
An unexpected side effect is the fact that he's been up for 3 days straight.
-Coffee Anyone?